Free Subscriber Newsletter – January 2022
Welcome to your monthly free newsletter from the Journal of Dementia Care. We have exciting plans for 2022 – all will be revealed in due course! Meanwhile we wish all our readers and everyone in the dementia care community worldwide a happy and peaceful new year.
A brief round-up of the latest news is below – all our news can be found regularly updated on the website here.
We are a cooperative and depend on investments and donations (as well as subscriptions) so if you would like to join our Journal of Dementia Care community more fully please click here to find out how you can.
Our new issue of The Journal of Dementia Care is out now.
If you are interested in subscribing for full access to the Journal of Dementia Care and all its activities, please click here.
---
Funds for social care
An additional £60 million is being given to local authorities to support adult social care during January as Omicron cases rise.  This Omicron Support Fund comes on top of £388 million already announced by the government for infection control and testing in the care sector.  "Protecting care staff and people who use social care services continues to be a priority, especially as cases surge and Omicron spreads rapidly around the country," said care minister Gillian Keegan.  The new money is intended for a range of purposes, such as improving ventilation, increased use of direct payments, and paying for Covid-19 sickness and self-isolation pay for staff.
---
A breath of fresh air
Practical suggestions on improving the design of environments in which people with dementia live are central to two new books by a husband and wife team.  Award-winning landscape architect Annie Pollock is author of A Breath of Fresh Air: The importance of air quality in aged care design, while Ricky Pollock has written Acoustics in Aged Care. The books discuss the effect on quality of life of air quality and acoustics, and give practical advice on what to do. "In my view, [the books] are essential reading," said dementia care expert Professor Mary Marshall. "They are absolutely up-to-date, authoritative and well-illustrated. These are important and often neglected aspects of design." A discussion of the books can be heard on the Dementia Centre's Dementia Podcast and online copies can be downloaded free or hard copies purchased from the website
---
Temporary visas for care staff
In a bid to boost care worker numbers, the government has added them to the Shortage Occupation List, making it easier to recruit them from abroad.  Care home and home care workers, who will need to receive a salary of at least £20,480, will be eligible for the health and care visa scheme for a 12-month period.  The temporary measure is expected kick in early this year and is designed to increase staffing levels in a sector where vacancy rates are thought to be as high as 17%.  According to the government, it will allow applicants and their dependants to take advantage of fast-track processing, support with processing applications and reduced visa fees.
---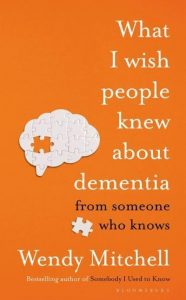 This new book by Wendy Mitchell is available to pre-order (out 20th January) 
Order here, or at your favourite bookseller
Built with Newsletter Glue.