Welcome to this new monthly newsletter for subscribers to the Journal of Dementia Care. As well as full access to all the articles and regular features in each bi-monthly issue of the journal, our website will include important news from the dementia care world, updates and useful resources, all rounded up once a month in this newsletter.
But first a word about what's changed. JDC is now owned by a new Community Benefit Society, Dementia Publishing. Its directors are Sue Benson and Dr Richard Hawkins, editor and publisher of JDC from its launch in 1993, and Barbara Stephens, Dementia Pathfinders.
As the new owners we are committed to providing you with all that is so loved and valued at JDC, plus a lot more: the journal itself of course, now in an electronic format (still ably edited by Mark Ivory), a much more extensive website, www.journalofdementiacare.co.uk, and dementia-focused newsletters and events including the UK's largest annual event in our dementia care world, UK Dementia Congress.
---
---
 Dementia Publishing's advisory board
We are delighted that all members of JDC's advisory board are keen to continue and guide us in the years ahead, and we warmly welcome new members who have given us invaluable help through the process of forming a Community Benefit Society: Hilary Woodhead (NAPA), Jude Sweeting (Dementia Pathfinders/Ladder to the Moon/Resonate Arts) and Karen Harrison-Dening (Dementia UK). See the full list of advisers in the About section of our website.
---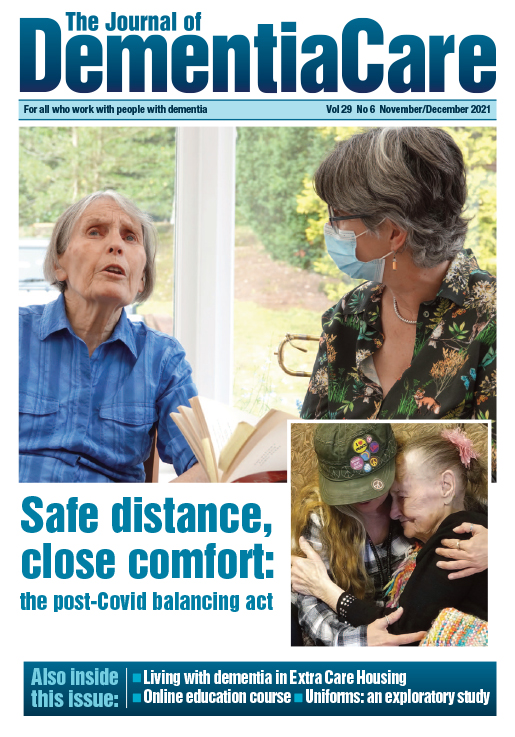 ---
News
Wage rise 'will not solve social care crisis'
A promise in the chancellor's Budget to raise the minimum wage to £9.50 an hour from next April will not be enough to solve the social care workforce crisis, sector leaders have warned.
The Independent Care Group, led by North Yorkshire care homes boss Mike Padgham, said the government had "ignored desperate pleas" for help from the sector, while the National Care Forum (NCF) said the Budget had been "silent" on the workforce pressures.
"The care of our oldest and most vulnerable has been ignored once again and we will all suffer the consequences," Padgham said.  "There are a few good things in the budget – the minimum wage, help for the low paid and incentives to industry – but nothing for care."
NCF described the Budget as a "missed opportunity" to recognise social care as a major contributor to the economy.  "The recently announced £162.5 million for recruitment and retention is a drop in the ocean of what is really needed to address the workforce challenges," said policy director Liz Jones.
ICG also warned that the government's "no jab, no job" policy, due to take effect on 11 November, was "set to rob social care of 40,000 staff".
---
Care group pledges to pay real living wage
---
HUGs now widely available 
The HUG, brainchild of the Cardiff Metropolitan University's LAUGH team is now available to buy on the 'HUG by LAUGH' website and Alzheimer's Society's online shop for £125. Research has shown it can increase wellbeing: its weighted limbs, soft body and simulated beating heart help mimic a human hug, and it has now been fitted with a music player. Key stakeholders, including the Alzheimer's Society, the Welsh Government, the Arts and Humanities Research Council (AHRC), have funded the research and development of the therapeutic device. 
---
---
---
---
---