Premium Newsletter 22nd December 2021
Welcome to the third monthly premium newsletter for subscribers to the Journal of Dementia Care – the last for 2021. We heartily wish all our readers and everyone in the dementia care community an enjoyable and healthy Christmas break, and we all look forward to a better new year in 2022.
Our website www.journalofdementiacare.co.uk gives you full access to all the articles and regular features in each bi-monthly issue of the journal and all back issues. The website also includes important news from the dementia care world, updates and useful resources, all rounded up once a month in this newsletter.
We are a cooperative and depend on investments and donations (as well as subscriptions) so if you would like to join our Journal of Dementia Care community more fully please click here to find out how you can.
If you haven't yet seen the current issue of the Journal of Dementia Care please click on the cover to read.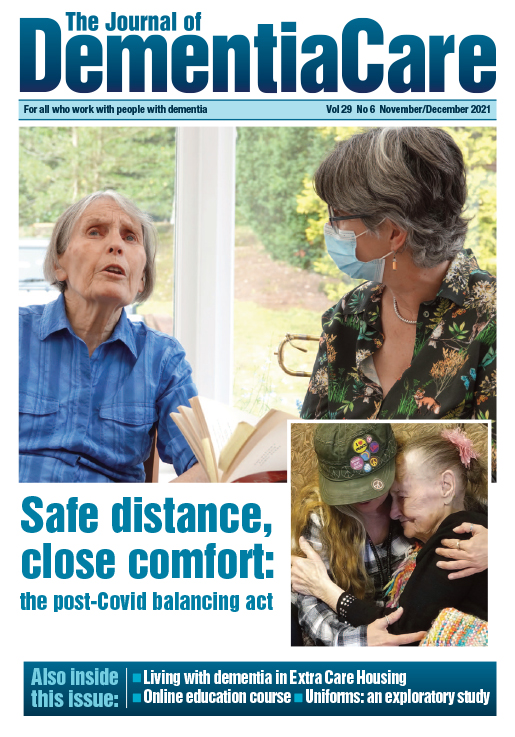 ---
Care worker recruitment
Care workers could benefit from a £300 million recruitment and retention fund launched by the government, money which it said could be used to "pay for bonuses and bring forward planned pay rises" as well as for overtime payments. It is in addition to £162.5 million announced in October.
But there are serious questions about whether there will be enough staff to cover care home shifts over the Christmas period as the omicron variant spreads rapidly.  Nadra Ahmed, chair of the National Care Association, told inews.co.uk that managers were feeling "extremely anxious" about maintaining services.
"We're now seeing really high levels of concern about being able to deliver the services in the way we'd like to, and staffing is going to become an issue especially if people are going to have to isolate," she said.
The government announcement came as the Department of Health and Social Care tightened rules on care home visits again as fears grew about the omicron variant.  Under "Plan B" of its Covid strategy – implemented to cope with omicron – residents are each permitted three visitors and an essential caregiver. 
Restrictions were imposed even though 70% of care home residents had received a booster jab by 10 December and vaccination teams, expanded and deployed specifically for the task, had reached 97% of older people's care homes.
"Boosting the booster rollout in social care and updating the visiting guidance will help keep the most vulnerable people in our society safe from the virus this winter," said health and social care secretary Sajid Javid. 
---
Falls prevention
Falls are three times more common among care home residents than people of similar age living in the community, but new research published by the British Medical Journal has shown a way to achieve significant improvements.
Pip Logan and colleagues (BMJ 7 December) developed and tested the Guide to Action Care Home (GtACH) programme, in which all care home staff undertook one hour of falls prevention training and take any necessary action to reduce falls risks afterwards.  Residents in 84 care homes took part, two-thirds of whom had dementia. 
The GtACH programme was associated with a statistically significant reduction in fall rates up to six months from the start of the study as well as fewer bone fractures among those taking part. 
"We consider that training 71% of care home staff was a success, given that such staff often work part time or out of office hours, and given the extent of staff turnover in the care home sector," say the authors.
---
Christmas appeal
A sixth of people with dementia spent last Christmas alone and a fifth of families struggled with feelings of guilt and anger as vulnerable relatives were forced into social isolation.  These findings from an Alzheimer's Society survey accompanied the launch of its Christmas appeal, which is raising money to pay for more support.
In its survey of more than 1,000 people affected by dementia, the Society also found that people with the condition were 60% more likely to struggle to recognise family members since last Christmas and two-thirds of family carers feeling anxious about this year's festivities. 
"For many this festive season, the magic of Christmas, will be marred by families having to cope with an unmanageable and irreversible decline in their loved ones," said Society chief executive Kate Lee. 
---
Resonate Arts seeks new director
Resonate Arts is recruiting for a director, at "an exciting time to join our small and ambitious charity". The charity's purpose is to eradicate social isolation for people living with dementia, bringing dementia friendly communities to life. It works in Kensington, Chelsea and Westminster collaborating with arts, health, social care and community organisations, and artists to provide projects and programmes that build great relationships and spark enjoyment of life.
For more information and to apply, go to: www.resonatearts.org/news.html
The closing date for applications is January 5th 2022
---
Drug licence refused
A decision by the European Medicines Agency (EMA) to refuse a licence for the dementia drug aducanumab has been described as "bitterly disappointing news for people with Alzheimer's disease."
Alzheimer's Research UK chief executive Hilary Evans made the comment after the EMA rejected an application by the manufacturer Biogen to distribute the drug across the European Union.  It is not known whether Biogen will make a similar application to the UK regulator, the MHRA, to license the drug here.
The EMA turned down the application despite the fact that aducanumab – known commercially as Aduhelm – has been approved for use in the USA for people with mild cognitive impairment or mild Alzheimer's disease.
In its ruling the agency agreed that the drug does reduce Alzheimer's trademark amyloid protein in the brain but said that the link between this and clinical effect was unproven. Nor did the studies show the drug was sufficiently safe since there was evidence in some cases of brain swelling or bleeding.
Evans added: "Biogen must continue collecting essential data to clarify the safety and effectiveness of aducanumab.  While further data collection is happening in the US, the UK is uniquely well placed to deliver world-class clinical studies that could address unanswered questions about the drug."
---
Statistics updated
Alzheimer's Society has updated its estimate of the number of people in the UK with dementia to 900,000 aged over 65.  It revises the previous figure of 850,000, which dates back to 2014, and takes into account "excess deaths" of people with dementia during the pandemic.  The new figure of 900,000 is based on modelling done by the LSE in 2019 but subtracts a number for excess deaths, thought to be more than 25,000 during 2020.  The Society said data was too sparse to include an estimate for the numbers of people with dementia under 65 and that there was an urgent need for more research in this area.
---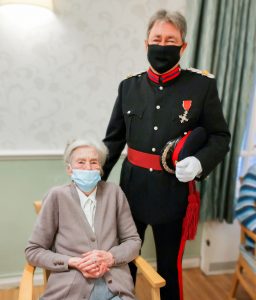 Gardener visits Lawn: TV celebrity Alan Titchmarsh gave residents of a Hampshire care home a lovely surprise when he called in on them in his capacity as Deputy Lieutenant of the County. Titchmarsh, gardening expert and novelist, also took the opportunity of his visit to the Lawn, in Alton, to congratulate staff for their hard work during the pandemic.  He is pictured with resident Kathie Baines, who said: "I absolutely love gardening and always watched his TV programmes."
Built with Newsletter Glue.
Built with Newsletter Glue.