Premium Newsletter January 2022
Welcome to this monthly premium newsletter for subscribers to the Journal of Dementia Care. We have exciting plans for 2022 – all will be revealed in due course! Meanwhile we wish all our readers and everyone in the dementia care community worldwide a happy and peaceful new year.
Our website www.journalofdementiacare.co.uk gives you full access to all the articles and regular features in each bi-monthly issue of the journal and all back issues. The website also includes important news from the dementia care world, updates and useful resources, all rounded up once a month in this newsletter.
We are a cooperative and depend on investments and donations (as well as subscriptions) so if you would like to join our Journal of Dementia Care community more fully please click here to find out how you can.
If you haven't yet seen the current issue of the Journal of Dementia Care please click on the cover to read.
---
Photographer wins grant
The Bob & Diane Fund is excited to announce photographer Cheryle St. Onge as the 2021 grantee for her photography project, Calling the Birds Home. 
This yearly photography grant is to support visual storytelling about Alzheimer's and dementia.
---
Funds for social care
An additional £60 million is being given to local authorities to support adult social care during January as Omicron cases rise.  This Omicron Support Fund comes on top of £388 million already announced by the government for infection control and testing in the care sector.  "Protecting care staff and people who use social care services continues to be a priority, especially as cases surge and Omicron spreads rapidly around the country," said care minister Gillian Keegan.  The new money is intended for a range of purposes, such as improving ventilation, increased use of direct payments, and paying for Covid-19 sickness and self-isolation pay for staff.
---
A breath of fresh air
Practical suggestions on improving the design of environments in which people with dementia live are central to two new books by a husband and wife team.  Award-winning landscape architect Annie Pollock is author of A Breath of Fresh Air: The importance of air quality in aged care design, while Ricky Pollock has written Acoustics in Aged Care. The books discuss the effect on quality of life of air quality and acoustics, and give practical advice on what to do. "In my view, [the books] are essential reading," said dementia care expert Professor Mary Marshall.  "They are absolutely up-to-date, authoritative and well-illustrated.  These are important and often neglected aspects of design."    A discussion of the books can be heard on the Dementia Centre's Dementia Podcast and online copies can be downloaded free or hard copies purchased from the website
---
Temporary visas for care staff
In a bid to boost care worker numbers, the government has added them to the Shortage Occupation List, making it easier to recruit them from abroad.  Care home and home care workers, who will need to receive a salary of at least £20,480, will be eligible for the health and care visa scheme for a 12-month period.  The temporary measure is expected kick in early this year and is designed to increase staffing levels in a sector where vacancy rates are thought to be as high as 17%.  According to the government, it will allow applicants and their dependants to take advantage of fast-track processing, support with processing applications and reduced visa fees.
---
Dementia care: Research and clinical innovation is the focus of a special issue of the Journal of Clinical Nursing. This covers a broad range of topics aiming to stimulate conversation on how people with dementia, their family members and nurses can work together to enable the development of appropriate and robust research to inform the implementation of evidence-based interventions, guidelines and policies, which encompass all health and social care settings.
The editorial (Brooke 2021) identifies four themes in the studies.
The inclusion of people with dementia in research
The continued lack of education and training for health and social care professionals to provide support and care for people with dementia.
The need for health and social care professionals to support family members of a person with dementia
The continued development of person-centred care in acute hospitals, care homes and the community.
The editorial concludes that the vast range of topics and methodological approaches within this special issue demonstrate the continued need to ensure dementia remains a focus of both governments and health and social care institutions to ensure that people living with dementia are central to their care, research and clinical innovations
Brooke J (2021) Dementia care: Research and clinical innovation. Journal of Clinical Nursing. 00:13.  onlinelibrary.wiley.com/doi/10.1111/jocn.16137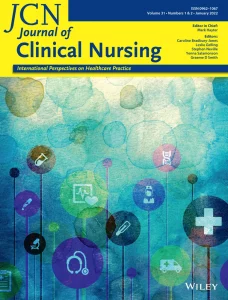 ---
Outstanding contribution: 
Sue Ashcroft, who has a leading role at care home group Care UK, has received the 2021 Hennell Award for Innovation and Excellence in Dementia Care.  Sue is Care UK's lead for dementia and lifestyle services as part of its Approach to Care initiative, which supports care home staff to develop their dementia care skills.  The award is open to anyone who has attended a course facilitated by the University of Worcester's Association for Dementia Studies (ADS). Sue is pictured below and with (l-r) Professor Dawn Brooker from ADS, award judge Liz Maynard, Suzanne Mumford from Care UK and Liz Davies-Ward from the University of Worcester.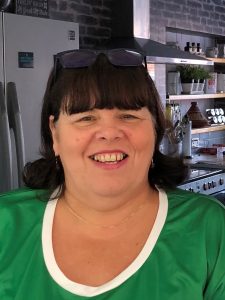 ---
Smart home support
Technology company CareSmart is marketing Connected Care, which supports people with social care needs to live independently in their own homes.  Connected Care kits include what the company describes as discreet activity sensors that can be placed around the home and are connected to a central 4G hub to check that the person is going about their daily activity as expected.
---
Digital care
A digital care programme rolled out across the county by Kent Council has won national recognition in the HTN HealthTech Awards.  The project, called Kara, involved successfully equipping 1,700 vulnerable, digitally disadvantaged adults with video "carephones" to overcome social isolation during Covid.  Comprising a one-touch secure tablet device, it provided video-calling to the individual's support network and allowed council support staff to monitor their care needs.  The programme was delivered by health consultancy Rethink Partners and virtual care company Alcove.
---
Evaluating fall risk
Scientific backing has been provided for FallSkip, a digital tool that allows clinicians to evaluate an older person's risk of falling.  According to FallSkip, 30% of people over 65 and 50% of those over 80 fall at least once a year, falls which in more than 70% of cases have clinical consequences.  The device, made by Valencia-based IBV, analyses the person's biomechanical response when performing particular actions.  According to a paper just published in the International Journal of Older People Nursing (Perez-Ros et al, 14 October), FallSkip has "greater discriminatory power in evaluating the risk of falls than other tools."
---
My Life, My Goals
My Life, My Goals is a self-help practical guide for helping people in the early stages of dementia achieve their goals.  The step-by-step digital guide, available for download onto a computer, tablet or phone – or to print at home – is published by the University of Exeter, Alzheimer's Society and Innovations in Dementia.  "Having goals is very important because you can see yourself being able to do something," says Allison, who lives in Dundonald in Northern Ireland.  The guide, which can be accessed on the Alzheimer's Society website, offers an individualised approach in which a care partner may be able to help develop practical strategies and support problem-solving.
---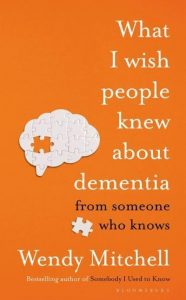 This new book by Wendy Mitchell is available to pre-order (out 20th January) 
Order here, or at your favourite bookseller
---
Built with Newsletter Glue.