Covid-19 isolation measures in care homes have had a massive impact on the lives of residents as the balancing act between safety and quality of life continues to pose dilemmas. Sally Knocker argues that finding the right balance has never been more important.
Key points
There is a delicate balancing act between maintaining physical safety and focusing on quality life during and beyond Covid-19
Experts suggest that significant damage has been done through social isolation to the cognition and mental health of people with dementia
PPE and infection control measures should not stand in the way of creative approaches to communication with people living in care homes
Affectionate touch enhances security and belonging for us all. Haven't we gone too far in denying this to people when they need it most?
Care homes should be creative around furnishings, hand washing and mealtimes so that a sense of community can be maintained as far as possible
"Physical distancing" would have been a better term than "social distancing" so as not to eliminate the sense of being social.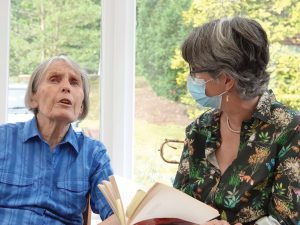 "That mask hides your face. Everyone looks the same to me now! You say you're smiling but when can I see the real thing?" – Esther, living in a care home talking to a care worker.
There are probably many people living in care homes who would agree with Esther. Here, I intend to explore some of the findings relating to the impact of the pandemic on the wellbeing of people living with dementia, caused to a great extent by the isolation measures connected to infection prevention and control, and also the impact on families.
Against this backdrop, I will also look at specific areas which will need to be constantly assessed in the months and years to come, including external visitors, use of touch and close contact, environmental features such as sofas and shared dining experiences, and the use of masks and other PPE. I will refer to how these have presented challenges to homes following the Butterfly Approach and Dragonfly Approach working with Meaningful Care Matters, and some of the creative strategies being used to overcome them.
It has never been more important to achieve balance in all our lives after a time of huge disruption and for some people enormous loss and distress. Emotions are very heightened, and the atmosphere everywhere has felt quite charged at times, not least in the health and social care sector.
On social media and Twitter in particular, there has been an outpouring of anger, frustration and criticism of government and some care provider responses to the pandemic, especially from families who were unable to be with their loved ones or could only visit through a glass window. The #rightsforresidents campaign has been vociferous, and many have raised the issue of human rights violations in terms of how individuals have been denied the rights for companionship, comfort and loving connection when they were needed most.
Some of the stories of spouses and families have been extremely heart-breaking. A few have taken desperate measures to be able to see their families, such as the story of a wife who took a job as a kitchen assistant in a care home so she could visit her husband with dementia. My own mother was only able to visit her beloved husband in his own room in the last few days of his life after a year of physical separation.
We were able to visit him in the garden and through the glass and did our best to convey our love despite difficulties with his poor hearing, fast loss of words and cognitive decline. He knew there was a "bloody virus," and was still able to ring my mother on the phone, though he was often confused and in different locations, where he was struggling to get back to her.
My mum was amazing at travelling with him and repeating reassurance and a constant message of her love for him in up to 12 telephone calls a day, which was both beautiful and painful to witness. While staff were kind and the physical care provided was generally good, it was evident how little social stimulation he had during the long days in his room, and how this almost certainly accelerated his deterioration.
A systematic review of the effect of Covid-19 isolation measures on the cognition and mental health of people living with dementia concluded that significant "damage" to cognitive and psychological health was in evidence. It concluded: "It is urgent that infection control measures applied to people with dementia are balanced against the principles of non-maleficence" (Suarez-Gonzales et al 2021).
This review also made the following key points:
neuropsychiatric symptoms of people with dementia (e.g., anxiety, depressive symptoms, apathy, agitation) were found to worsen during lockdown in most studies
cognitive decline affecting memory, orientation, concentration and communication was observed by caregivers within few weeks after lockdown
deterioration occurred in a short window of time (between 1 and 4 months) and it is unlikely to be attributable to the natural variation of the course of dementia
little research is conducted among care home residents with dementia (only two papers found)
increased consumption of antipsychotics and benzodiazepines has occurred in people with dementia during lockdown
evidence indicates that isolation measures quickly damaged cognitive and mental health of people with dementia and probably accelerated overall decline.
In an open letter to the Nursing Times in October 2020, experts on infection prevention and control (IPC) described how the "rules" of IPC do not and should not prevent family members and close friends of people in care homes from visiting them, even during lockdown. They wrote: "IPC measures applied at the right time and in the right way enable safe care, and their use as a rationale for prohibiting safe entry to care homes is a misinterpretation and at times even an abuse of IPC principles" (Andersen et al 2020).
Last January the World Health Organisation (WHO) guidance was updated to end "unfair, unnecessary and harmful widespread restrictions" (WHO 2021). In a hard-hitting blog for the BMJ website in July, Suarez-Gonzales and Storr stressed that "untold harms were taking place… in the name of IPC… this damage ironically occurred to some of the most vulnerable people in society, people with dementia living in care homes." They argued that "IPC measures should have been used in a way that protected people with dementia from Covid-19, while at the same time enabling safe and compassionate human interaction" (Suarez-Gonzalez & Storr 2021).
In a study of 29,097 residents in the US, isolation was found to severely affect their wellbeing, increasing prevalence of depression and loss of cognitive function, and producing more frequent episodes of incontinence and greater physical deterioration (eg, rates of substantial weight loss doubled) (Levere et al 2021).
These studies all make for very sobering reading and important lessons must of course be drawn from them. However, we have also anecdotally heard some of the very best care homes we work with describe an enhanced sense of closeness and family, much like the wartime spirit, where care staff teams have made more effort to provide companionship and loving connection in the absence of external visitors.
We have heard that many people living with dementia have adapted surprisingly easily to staff wearing masks if team members are creative about communicating a kind intention with words and using their eyes more. There has also been a sincere appreciation of the individual efforts of care teams from many families and an understanding that care homes and other care services were put in an impossibly difficult position to ensure rigorous infection control procedures to keep people safe. This was supposed to be done while maintaining quality of life with regulations and directives changing week by week. As one manager on Twitter described it, "I find myself being torn in 3: 1. the need for increased IPC, 2. Creating a homely rights-based environment, and 3. rights of staff to be put at the least risk possible."
During the summer, when restrictions started to lift, it was left to individual care providers to decide visiting times and regularity. An informal survey on social media revealed very varying rules from only a 15-minute visit in a sterile visiting room to unrestricted visiting (with masks and testing) in other homes.
One critic on Twitter complained: "The arbitrary nature of time restrictions reveals this has nothing to do with Covid or infection control any more but about control and keeping families out. The State has aided and abetted this tectonic powershift between families and providers." On the other hand, many care homes very positively used the "nominated visitor" and "essential caregiver" status as soon as it was possible to enable more regular visits from families. The Relatives and Residents Association have offered some very helpful guidance in this area (2021).
Commentators have reflected that the whole care sector has been in a prolonged crisis, not unlike a war against the virus, and some will be experiencing symptoms of post-traumatic stress disorder (PTSD) or similar as they emerge from this. In a climate of fear, people naturally revert to more controlling behaviours.
Helen Walton, operations manager at Church Farm Care reflected at the UK Dementia Congress last year as follows: "When staff become anxious, they naturally revert to some controlling language and behaviours…. Staff are asking for reassurance from their colleagues; 'am I doing this right?' and it's become a bit of a factory floor feel of people sharing instructions." In this context, it has been harder to restore a sense of being in someone's home rather than a place of work.
The following areas pose continuing challenges as we try to restore a sense of normality and a feeling of being at home in care services for those people living with dementia.
Affectionate touch
How many of us in recent days and weeks have met up with friends and family for the first time in a long time and have either paused before we approach someone to hug them, or just gone right ahead instinctively to embrace the person – and then checked ourselves to wonder whether we should have done this? Luke Tanner, author of a book about touch in dementia care (2017), wrote in a recent article:
We are now more aware of how the role a handshake, hug or literally bumping into a friend helps us secure a place in the world that gives us a sense of comfort, security and belonging in many social relationships and situations. How each of us is touched shapes how we feel about ourselves and each other.
This is even more the case for people with a cognitive impairment who may come to rely upon their experiences of touch to make sense of their everyday relationships. Since the introduction of social distancing, care workers have found themselves in a very strange position; demonstrating their care of the people they support by keeping their distance.
Whilst some people living in care can make sense of this, many people with a cognitive impairment cannot and will experience it as cold, hostile behaviour. After all, avoiding any touching outside of care tasks means avoiding any meaningful contact at all (2021).
For most of us, a hug provides a deep need to feel close and cared for by another person. According to several studies, an embrace (especially those lasting longer than 20 seconds) releases the bonding hormone oxytocin, which can lower your blood pressure, slow your heart rate and improve your mood. (Nagoski 2019) So how can we reconcile this need with Covid risk? If people are all doubly vaccinated, surely this must also affect the matrix in terms of decision making?
During the pandemic, Helen Walton was clear that team members should continue to offer touch other than just during personal care. To quote her again at UKDC:
We are absolutely vigilant in every element that we possibly can be in terms of use of PPE etc, but we know that our family members (residents in the home) need our love and they certainly need touch and connections. We could never eliminate that from our approach. I don't know how we could, and I don't know how our care staff would be able to do that.
Environmental features
Butterfly Homes and Dragonfly Homes promote vibrant environments full of the stuff of life to create invitations for people to be busy and to stimulate conversations. Inevitably some of these things represent a potential cross infection risk, for example if a doll or a book is passed round between people. Managers were immediately faced with dilemmas as to whether these things needed to be removed or not.
The use of sofas to promote closeness is also an integral part of our philosophy. At one point in the pandemic, some care homes were taking sofas out of living areas, and this seemed to represent a profound symbol of the reduction of human connection for people. This made me very angry as no-one was being asked to remove their sofas in their own homes, so why should this be happening to people living in care homes – still their own homes?
Fortunately, many staff have not prevented people sitting together in this way, as residents have been in "bubbles" of their own and so should be regarded as family households. In terms of maintaining environments which aren't too bare and sterile looking, our Butterfly and Dragonfly Homes have been creative about sourcing items which can be more easily cleaned regularly, for example laminated pictures and photograph albums. Individual memory boxes are being more actively used, as are dolls or soft toys which are purchased for people rather than communally owned and shared.
Hand washing
One thing everyone has agreed on during the pandemic is that regular and effective hand washing is the single most important way to stem the spread of the virus and other infections. Some of the home staff I have spoken to have used washing up bowls to take round to people to "do some washing of cups and dishes", which at the same time ensures lots of soapy water being used. Activity coordinators have told me that "going for a walk together," which involves also finding somewhere to both wash hands, can be made into an event rather than a task if done well! A nurse I spoke to recently suggested finding different songs to wash your hands to with people and told me a new favourite for her was Gloria Gaynor's "I Will Survive"!
Mealtime experience
Another key feature of the Butterfly Approach to care is for team members to share the mealtime experience with people living in the home. This breaks down the sense of "them and us", but it has not been possible as team members have been unable to take off their masks to eat or drink.
However, again anecdotally, I have heard many positive stories of how the social experience of a meal has been maintained despite these restrictions. As Helen Walton describes: "You can still sit with people, chatting etc. In some cases, where a person living in the home asks why we aren't eating, we will still have a plate in front of us to give a sense of a shared experience."
In the Bradbury Day Centre in Worthing, for example, three round tables were placed together which met physical distancing requirements, but still very much felt like a shared meal. As many have said, we should have called it "physical distancing" not "social distancing" when we really mean being aware of proximity to others rather than eliminating the sense of being and feeling social.
Use of PPE
During one visit to a care home, I asked the staff how much longer they thought they would be wearing masks, to which they resignedly replied, "probably for a long time to come…" Visiting another home – the Huntington and Langham Estate nursing home – where I was facilitating an arts and photography project for NAPA and wearing a mask, former teacher Molly, who had dementia, told me in no uncertain terms that she could not hear me properly and that I needed to project my voice "much better"!
I recited a poem with Elizabeth later in the session and was painfully aware of how the mask I was wearing – and she wasn't – really reinforced the sense of "them and us" I have always striven to reduce in the way I work. For those who are hard of hearing, it inevitably creates an additional barrier to positive communication which is so often aided by lip reading and picking up social cues in facial expressions.
When these challenges are added to the question of staff wellbeing and the discomfort of using PPE for long hours, there is much to consider. Yet can it be that the mask still seems to be here to stay?
Concluding thoughts
Peter Bewert. CEO of Meaningful Care Matters, sums up this unsatisfactory situation in the following way:
Rightly or wrongly, in times of crisis we revert to what we know and what we are comfortable with. This pandemic has seen the best and worst of people from all walks of life. In the health and social care sector we adopt a mindset of protection and harm minimisation and our culture and external engagement with public health authorities and regulators can create confusion, contradiction and fear when it comes to what we could, should and are able to do or not to do.
Care homes are not hospitals or primary health institutions, they are "homes" and there is no reason why person-centred cultures cannot continue to be lived despite a myriad of conflicting "rules" being thrown at us. We need to view this information through a lens of common sense and compassion and ensure we have the right information. We need to challenge the status quo with research-based evidence practice that shows there is a different way. 
This is hard, there is no denying that, but we can't afford to revert to a draconian approach where we neglect the emotional risks for the benefit of a sanitised approach. Our duty of care is to ensure safety and harm minimisation through risk mitigation but let us never neglect the emotional wellness of the people we love and care for.
At MCM we are constantly reviewing our guidance in relation to infection control, but central to the risk management matrix has always been consideration of the emotional harm that results from limiting social contact and the variety of experience people enjoy. We lose sight of this at our peril – as people will be protected from dying of Covid-19, but risk dying inside of loneliness and boredom.
References
Andersen L, Anobile A, Bolton P, Brown S et al (2020) Open letter: Infection prevention and control should never be at the expense of compassionate care. Nursing Times website, 16 October.
Levere M, Rowan P, Wysocki A (2021) The Adverse Effects of the Covid-19 Pandemic on Nursing Home Resident Well-Being. Journal of the American Medical Directors Association 22(5) 948-954.
Nagoski E, Nagoski A (2019) Burnout: Solve Your Stress Cycle. London: Vermilion.
Relatives and Residents Association (2021) Visiting and the Law: A guide for care homes during Covid-19. London: RRA.
Suarez-Gonzalez A, Rajagopalan J, Livingston G, Alladi S (2021) The effect of Covid-19 isolation measures on the cognition and mental health of people living with dementia: a rapid systematic review of one year of evidence. MedRxiv (posted 20 March).
Suarez-Gonzalez A, Storr J (2021) Enforced restrictions in care home access – unfair, unnecessary, and harmful. thebmjopinion blog, 15 July.
Tanner L (2017) Embracing Touch in Dementia Care: A Person-Centred Approach to Touch and Relationships. London: Jessica Kingsley Publishers.
Tanner L (2021) Touch and Social Distancing in Professional Care. The Activity Providers magazine (NAPA) Issue 2.
World Health Organisation (2021) Infection prevention and control guidance for long-term care facilities in the context of Covid-19 (Interim Guidance). Geneva: WHO.
Sally Knocker is consultant trainer at Meaningful Care Matters www.meaningfulcarematters.com