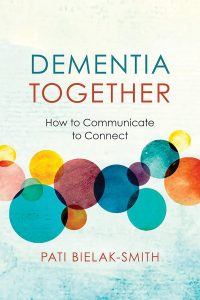 Dementia Together: How to Communicate to Connect
Pati Bielak-Smith, PuddleDancer Press, ISBN 9781934336182, £17.99
If you are new to "non-violent communication", as developed by Marshall B. Rosenberg, then Pati Bielak-Smith's beautiful, welcoming, and informative book is clearly written for all of us to read and enjoy, whether you are living with a dementia, a family caregiver or a professional who supports them.
If you are already familiar with it, then bringing dementia together with the process will be a revelation and an affirmation of its value and relevance in very practical ways.
Introducing us to women and men and their experiences of living with a dementia in relationship with her, beginning with her beloved great-grandmother, Pati re-creates a real world where we become immediately part of the narrative, and have an investment in the outcome. She generously shares her discoveries with us in a way that is filled with warm honesty, humour, humanity, and skill.
Pati demonstrates, through her descriptive ability and ease of communication, a range of situations and relationships that we can all relate to. The process is convincing in its simplicity and practicality, and we can see that it really can and does work in the moment.
Non-violent communication also encourages us to take responsibility for ourselves as distinct individuals whose wellbeing is important. The process helps us to "build our ability to see clearly, feel our feelings, sense our needs and request strategies to meet those needs." This is a timeless challenge to all caregivers, especially those within the family. I am delighted that this has been addressed in such gentle and appreciative ways
Page 221 details Rosenberg's four-part non-violent communication process in a table that is comprehensive and easy to follow. Our understanding is enhanced, and our current practice is enlarged with more feeling and more heart.
The book is very pleasing to look at and hold. The colour and design of the front cover, the choice of font, layout of the chapters and the text and the "how to" sections are inviting and clearly arranged.
The book is divided into three parts and 11 chapters, and the reader can join the book wherever they wish. Some pages are enhanced with circles within which is a brief statement about dementia. Speech bubbles or clouds hold the words of those living with a dementia. They bring the text to life and add a light quality to the detailed content.
In her own words, Pati says "this book will help you learn principles that will redirect your experience with dementia – to focus more on life than on the illness. The primary principle on which this book rests is that communication is about connection." And she adds: "Caregiving requires a brave heart. Nonviolent communication as a discipline of the heart is a process – not a technique, not a method, but a process – that can help."
I wholeheartedly agree.
Danuta Lipinska, specialist in ageing and dementia care