Figures suggest there may be 68,000 LGBT people with dementia in the UK, but they remain largely invisible to care and support services. Claire Days and Andrew Gilliver describe how the Bring Dementia Out programme has helped to bring about change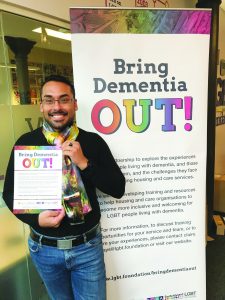 Over the last two years, our Bring Dementia Out programme has been highlighting the needs of LGBT+ people affected by dementia and helping care and housing providers give them information and support. The aim is to ensure an effective service for this group.
Bring Dementia Out began as an innovation project, led by Alzheimer's Society, and was first delivered in Manchester and Brighton in January and February 2019. The learning from this project was taken forward by LGBT Foundation, along with Brighton & Hove Switchboard, National Dementia Action Alliance and National LGB&T Partnership, supported by the Guinness Partnership.
The additional challenges faced by lesbian, gay, bisexual and trans people living with dementia – and those who are supporting them – are varied and complex, as our programme has shown, and require some understanding of the lives and experiences of LGBT people.
Due to the lack of monitoring of sexual orientation and trans status across the board, accurate figures for the numbers of LGBT people do not exist. Government estimates suggest that 5 – 7% of the UK population are LGB and a further 1% identify as trans and gender variant. Based on these figures, there could be 68,000 LGBT people or more now living with dementia in the UK.
Yet they are largely invisible in the services and support offered by dementia care organisations and care providers. Without accurate monitoring of sexual and gender identity and trans status, we do not know where additional support and resources are required. Traditionally, some organisations have been reluctant to implement monitoring because they may see it as discriminatory to ask about people's status. But one of the key messages of Bring Dementia Out has been the need for confidence and inclusive language to address this lack of monitoring.
Additional challenges
There is a long history of discrimination experienced by many LGBT+ people of all generations when accessing mainstream services. Many are therefore unwilling to try, despite legal protection from discrimination under the Equality Act 2010, but the issue often arises in a particular way where dementia is concerned.
Some LGBT people with dementia may not remember that they have legal protections now, which would not have existed in their earlier life. Homosexuality was partially decriminalised for gay men over the age of 21 in 1967, with equal age of consent for LGB people coming much later in 2001. Aversion therapy was offered as a "cure" for homosexuality on the NHS until 1980 and, while it is less common now, we are still awaiting an outright ban on it from the government.
"Clause 28" came into effect in 1988 and prohibited the promotion or provision of information about LGB people in the public sector. The legislation referred to LGBT relationships as "pretend families" and, although clause 28 was repealed in 2003, the effects are still felt today. A resolution on trans people's rights, advocating legal gender recognition based on self-determination, was passed by the Parliamentary Assembly of the Council of Europe just six years ago.
Memories of earlier times and the hostility they then encountered may become more prominent for older LGBT people with dementia. An understanding of this history is vital to offering the support and reassurance that they may need.
Visibility
Anecdotal evidence from the Bring Dementia Out innovation project tells us that dementia care services and housing providers are often "heteronormative" in nature, meaning that LGBT people are often not represented in the literature or imagery used by these services. Consequently, many don't feel they can be themselves when accessing services or don't feel they are welcome. One of our lived experience advisors told us:
When my partner (who was living with advanced dementia) moved into the residential care home, he told people we were cousins because he was afraid of the reaction to a gay couple. We'd been together for over 40 years and were civil partners by that time. He was afraid and paranoid that people would discover the truth.
Making efforts to include LGBT literature and signposting in services shows everyone that these locations are LGBT-aware. To do so is affirmative and makes a huge difference to the confidence of LGBT people who use services.
There are also challenges arising around next of kin, even for married same sex couples. Some same sex partners, despite being open about their relationship, have reported being referred to as a friend, brother or sister by service providers, which can be distressing for both parties.
For trans people, there are very great concerns that they may not be supported to be themselves by services. They may not remember that they have transitioned or may be wrongly gendered by services, which is potentially extremely upsetting and illustrates just why additional support may be needed to help people feel safe. Research has shown how trans people were particularly concerned that they would be buried under the gender they were assigned at birth (Marie Curie, undated).
Developing services
Specific services and activities are still quite rare, which can leave people feeling isolated from the LGBT community. However, organisations such as Brighton & Hove Switchboard and Opening Doors London offer a Rainbow Memory Café service for LGBT+ people with dementia and there are such support networks popping up across the country all the time. Another example is Speak Out With Dementia, an online peer support group (go to www.dementiavoices.org.uk).
One of Bring Dementia Out's lived experience advisors told us:
I used to love going to the LGBT events, but as my dementia progressed I became embarrassed to go because I kept forgetting people's names or things they have told me. I would like to be more involved, but it is difficult to get the support I need to go. My daughter is also a lesbian, and one of the few LGBT people I now see on a regular basis.
Resources and training
The programme has seen the development of resources and training for dementia care and housing providers throughout the country. Patrick Ettenes (pictured above), another of our lived experience advisors who has been instrumental in making the programme possible, recently won the Attitude Pride Hero award for his work (attitude. co.uk). He comments:
I am involved with the campaign for LGBT people living with dementia to try and address the lack of services available for LGBT people within services and housing provision. Within the last few years, there have been some good advances in this area, thanks to organisations like the Alzheimer's Society and Guinness Partnership – but there is still a lot of work to be done.

It's like the light has been switched on, and now we need to find and support all LGBT people living with dementia to bring them in to the light. No LGBT person living with dementia should remain in the dark in terms of access to support and services.
In this context, it is encouraging to see how our training is already making a strong impression on the service providers we have collaborated with. They have fed back to us how it has given them pause to reflect on the experience of LGBT people and the ways in which it might be manifest in someone with dementia. Here are three separate anonymised comments we have received:
In all honesty I had never even considered how traumatic the regression side of dementia could be to someone who had struggled in their earlier life, come to terms with who they are, only to be thrown back to more scary times. It was useful, even though it was so sad.
The piece that really struck me was the gentleman talking about a reminiscence activity, referring back to childhood memories and how this was so difficult for him, because growing up in the 1950s being gay was illegal. The cultural context is so important.
Thank you for making me think differently and educating me. I believe this will be the start of change in regard to dementia care in our organisation and I want to continue to learn and develop a service that the LGBT+ community feel included in and supported.
To access the resources, support, or more information please contact the Bring Dementia Out programme by email: info@lgbt.foundation. If you would like to know more about how you can support LGBTQ+ people affected by dementia, email lgbtq.dementia @lgbt.foundation.
References
Marie Curie (2016) "Hiding who I am": The reality of end of life care for LGBT people. London: Marie Curie.
Claire Days and Andrew Gilliver have been involved in the Bring Dementia Out programme on behalf of LGBT Foundation