Author details
Sophie Randall is assistant psychologist in the Specialist Dementia Intervention Team, Dr Sian Clark is principal clinical psychologist/clinical lead in the Specialist Dementia Intervention Team, and Dr Fiona Senior is joint lead consultant clinical psychologist for the Older Persons Mental Health Team, all at Cwm Taf Morgannwg University Health Board.  
What was the impact of Covid-19 on the wellbeing of staff and how extensively did it disrupt visits and the everyday routine in care homes?  Sophie Randall and colleagues report on an investigation by a Specialist Dementia Intervention Team in South Wales. 
From the start of Covid-19 care homes were one of the environments most seriously affected by it, yet one of the least supported.  In general, frontline health workers who were caring for people with covid reported many more severe mental health symptoms as a staff group than colleagues who were not providing such care (Ayanian 2020).  There is every reason to believe that frontline staff working in care homes were similarly affected.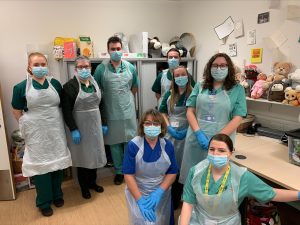 Even so, while the public showed widespread appreciation and support for NHS staff, many care home staff felt that they were excluded from this and under-recognised (Nyashanu et al 2020). Throughout the pandemic, as many as 75 per cent of care home managers and 77 per cent of care home directors voiced concerns about the morale, wellbeing and mental health of their staff (Rajan & McKee 2020). 
In another study, 43 per cent of care home staff may have developed moderate to severe symptoms of anxiety or post-traumatic symptomatology.  The proportion reporting both anxiety and PTSD symptoms following their contact with residents with Covid-19 was as high as 18 per cent (Riello et al 2020).  
Figures from the Office for National Statistics (2020) showed that dementia was the most common pre-existing condition among those who died from Covid-19 and was involved in 42.5 per cent of care home resident deaths from the virus.  In turn, this will have had consequences for the mental wellbeing of the many care home staff providing dementia care. 
We wanted to gauge the impact of covid on the wellbeing of staff in care homes covered by the Cwm Taf Morgannwg University Health Board as part of a broader exercise led by our Specialist Dementia Intervention Team (SDIT).  This multidisciplinary team – comprising practitioner psychologists, nurses, occupational therapists and health support workers among others – is active in 46 care homes across the health board.  It supports care staff to understand behaviours that challenge, take a non-pharmacological approach, and limit the need for hospital admissions. 
SDIT interventions are based on the Newcastle Model for Behaviour that Challenges in Dementia (James & Jackman 2017). Normally these person-centred interventions to support care staff would take place face-to-face, but at the height of covid consultations were conducted on the phone instead.  As the restrictions were lifted, a mixture of face-to-face and phone consultations were undertaken.   
Therefore, the SDIT team was keen to evaluate how helpful their intervention had been over the first year of covid as well as to understand the challenges that care home staff had faced and how these had impacted on their wellbeing. 
Method 
A questionnaire was drawn up to ask care staff about disruption to services, opinions of SDIT, wellbeing of staff and what staff perceived to be the most helpful and challenging aspect of managing their wellbeing over the past year. The questionnaire consisted of 22 questions, which were designed to elicit a range of qualitative and quantitative data, and an information sheet was attached explaining its purpose and how the data would be used. 
Data collection was carried out between March and May 2021. The managers or deputy managers of the 46 care homes were contacted, of which 40 gave their consent for the questionnaire to be distributed among staff. Questionnaires (400 in total) were printed and delivered in envelopes to all the care homes except one which asked for it to be emailed. Participating homes were called after four weeks reminding them to complete the questionnaires, which were collected after a further four weeks.  Completed questionnaires were received from 16 of the homes, amounting to 100 questionnaires in total.   
Demographics 
Most respondents were care assistants (n=62), but there were some others from management (13), nursing (6), "other leadership" (6), administrative (5) and "activities" (4). When asked about the kind of care they provided, 23% said dementia care nursing and the same proportion said they worked across multiple categories of care.  Other responses were dementia care residential (21%), general residential (21%), general nursing (7%), "other" (4%) and assisted living (1%).  
Nearly half of respondents (45%) had had involvement with the SDIT over the past year and 50% had not.  The other 5% did not answer the question.  Of the respondents who had had involvement, 38% said that this had been via phone while 62% said it had been face-to-face.  Asked whether they had personally had contact with the SDIT, 56% said "sometimes", 22% said "rarely", 16% said "often" and 7% said "not at all".  No respondents ticked the "very often" box. 
Due to the nature of the SDIT intervention this was to be expected as the team will usually have contact with many different members of staff on their visits and phone calls, and so even if contact with the home is frequent, it will often not be with the same member of staff.  
Opinions on SDIT 
When asked how helpful respondents found the SDIT's input on the last occasion that they were involved, most respondents answered that they had found the team helpful (60%) or very helpful (4%). The next most common response was that they had found the team neither helpful nor unhelpful (24%) and fewer respondents answered that they found the team unhelpful (7%) or very unhelpful (4%). 
Responses for how helpful they found the SDIT on the whole were very similar with most answering that they found the team to be helpful (58%) or very helpful (9%). The next most common response was still neither helpful nor unhelpful (20%) and a minority of respondents indicated that they found the team unhelpful (11%) or very unhelpful (2%). 
Respondents were also asked if there was anything that the SDIT could have done that would have been more helpful to them (see table). This was an open-ended question and the responses that were received (n = 12) were grouped thematically.  
Generally, feedback seemed to suggest that respondents dissatisfied with the team would have liked more contact (42%) or more face-to-face visits specifically (33%) with only a handful indicating that they would have appreciated an improved carer approach (17%) or a quicker intervention time (8%).  
Care home disruption 
Questions were also asked focussing on the disruption that respondents had experienced in their homes because of restrictions and guidelines, particularly in relation to visits, understanding of policy and the use of phone and video calls. 
In general, most respondents noticed a reduction in professional visits (58% strongly agree, 33% agree) and personal visits (67% strongly agree, 26% agree). Most respondents also found the reduction to be difficult for them (39% strongly agree, 34% agree). 
Even so, the vast majority of respondents said that they had a good understanding of the policy surrounding visits (47% strongly agree, 45% agree) and found the use of phone/video calls to be useful (31% strongly agree, 42% agree).  
Staff wellbeing 
In terms of staff wellbeing during covid, questions focussed on whether they felt well supported, whether they had needed more support than usual, whether they felt they had looked after their wellbeing and whether they felt they were able to manage when things were difficult. 
Most respondents felt that they looked after their wellbeing (16% strongly agree, 55% agree) and were well supported (14% strongly agree, 42% agree). They also generally felt that they could manage when things were difficult (9% strongly agree, 56% agree). 
But most also said that they had found it hard to wind down over the past year (23% strongly agree, 38% agree) and many felt that they had needed more support than usual (8% strongly agree, 38% agree).  
Wellbeing comparisons 
When comparing their wellbeing at the time of the questionnaire (March – May 2021) with how it had been in February 2020 before lockdown, most said it was the same (54%), although 24% of respondents said that their wellbeing was worse and 7% much worse. A minority of respondents answered that they felt their wellbeing was better (8%) or much better (1%). 
Responses were similar when comparing wellbeing at the time of the questionnaire to August 2020 when restrictions had been relaxed, with most respondents still answering that their wellbeing was the same (51%) as it had been, 21% that their wellbeing was worse and 6% much worse.  However, a few indicated that their wellbeing was better (12%) or much better (3%). 
Managing wellbeing  
Six themes were identified from staff responses to a question about what they had found most helpful in managing their wellbeing during covid (see figure 5).  These were: support in the workplace, support from friends and family, taking care of self, keeping busy, positive mind-set/mindfulness, and taking time off. 
 The most common answers corresponded to support in the workplace (41%) as the most helpful aspect of managing wellbeing with support from family (23%) also a significant factor.  
Wellbeing challenges  
What had staff found to be the most challenging aspect of managing their wellbeing? Once again, responses were grouped thematically and seven themes emerged: not seeing friends and family, isolation/lack of support, overworking and stress, illness/loss, lockdown rules, lack of visits to the home, and changes in guidance (see figure 6). 
Here, the most common responses corresponded to not seeing friends and family (31%) with isolation/lack of support coming second (16%).  
Discussion 
Given previous research showing the impact of covid on care home workers, it was expected that the results of this questionnaire would show staff to be struggling with their wellbeing. Some of our results bear this out, with respondents indicating that (on the whole) they: struggled to wind down, felt they needed more support than usual and did not feel their wellbeing was better now than it was six months or a year earlier.  
Staff also identified several challenges to their wellbeing including lack of contact, lockdown rules, and loss. Responses also showed a disruption to the homes in terms of a lack of personal and professional visits. 
But responses also showed that staff generally felt that they had looked after their wellbeing, and that they had felt able to manage when things were difficult. Many felt well supported.  
Respondents also identified several themes that helped them to manage their wellbeing, such as support in the workplace and from family/friends, taking care of themselves and keeping busy. Additionally, they had made use of the SDIT's phone/video calls and found this helpful, and generally had a good understanding of guidance on rules and visits to the home. 
The SDIT played a role in maintaining wellbeing with the majority of respondents rating input from the team as helpful both generally and throughout the pandemic. Most indicated that they had face-to-face contact with the team. 
But there were lessons for the SDIT to take forward and certainly comments suggesting more face-to-face contact have already been addressed as restrictions have been lifted. The SDIT has always striven to be compassionate towards care staff and their struggles, but interventions will now be informed by a better understanding of the specific ways in which they have been affected during covid. 
Responses also highlighted the significance of being able to wind down after work and the difficulty that many staff faced in doing this.  Services supporting care home staff may find a benefit in introducing mindfulness techniques either in the workplace or to be practised at home. Staff also indicated the importance of feeling well supported in the workplace, pointing to the value of structured support systems at work such as peer support groups.  
What was also striking, though, was that in the face of many challenges, staff have also shown compassion for one another and resilience in managing their wellbeing in spite of everything. 
References 
Ayanian JZ (2020). Mental health needs of health care workers providing frontline COVID-19 care. JAMA Health Forum 1(4) e200397-e200397. 
James IA, Jackman L (2017) Understanding Behaviour in Dementia that Challenges: A guide to assessment and treatment. London: Jessica Kingsley Publishers.  
Nyashanu M, Pfende F, Ekpenyong MS (2020) Triggers of mental health problems among frontline healthcare workers during the COVID‐19 pandemic in private care homes and domiciliary care agencies: Lived experiences of care workers in the Midlands region. Health & Social Care in the Community (published online at onlinelibrary.wiley.com).  
Office for National Statistics (2020) Deaths involving COVID-19 in the care sector, England and Wales: deaths occurring up to 12 June 2020 and registered up to 20 June 2020. London: ONS. 
Rajan S, Mckee M (2020) Learning from the impacts of COVID-19 on care homes: a pilot survey. International Long-Term Care Policy Network (published online at ltccovid.org)  
Riello M, Purgato M, Bove C, MacTaggart D, Rusconi E (2020) Prevalence of post-traumatic symptomatology and anxiety among residential nursing and care home workers following the first COVID-19 outbreak in Northern Italy. Royal Society Open Science 7(9) 200880.