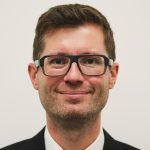 Nobody could have predicted the scale and force of Covid-19 but falling diagnosis rates have once again highlighted the need for a more streamlined service. James White argues that people with dementia should be prioritised for pandemic recovery.
Every three minutes someone develops dementia in the UK. And yet, many are struggling to access a timely and high-quality diagnosis, which is crucial in unlocking the vital support people with dementia need to live well.
People with dementia have been worst hit by the pandemic: thousands have sadly died, and many more have been deteriorating from the knock-on effects of the lockdowns. In an Alzheimer's Society survey, an overwhelming 92% of people said the pandemic had caused a more rapid increase in their loved one's dementia symptoms, with some losing the ability to speak or feed themselves (Alzheimer's Society 2021). But the impact has been even greater than it may initially appear, as disruptions to health services have caused a serious drop in diagnosis rates.
In October 2020, Alzheimer's Society released a report on the dementia pathway. It shone a light on the inconsistent provision of care and support for people affected by dementia, by looking at four stages of NHS England's Dementia Well pathway – diagnosing well, supporting well, living well and dying well.
For those living with dementia, getting a diagnosis provides the person with an explanation for their symptoms, access to treatment, advice and support, and allows them and their families to prepare for the future. Knowing the specific type of dementia is also important, as the symptoms are different – and many treatments and support are more effective when started earlier.
When most people become concerned about potential dementia symptoms, they go to their GP. As appointments were significantly reduced or made remote during the pandemic, some were unable to reach this first step. The second step is usually to visit a memory service, but these too have been either closed or part-closed; meaning that not only were people unable to access them at the time, but now there may likely be a waiting list, creating yet more obstacles for those seeking a diagnosis. Between March 2020 and February 2021, the average number of new monthly referrals to memory services was down 49%. During the same time period, the average number of new monthly memory service assessments was worryingly 61% lower than the previous year.
A few years ago, after we gained government support for our Right to Know campaign, average diagnosis rates were successfully proactively raised from less than half to 66.6%, and this was maintained. However, the impact of Covid-19 has significantly reduced this. Between March 2020 and February 2021, diagnosis rates dropped 6.3%, from 67.4% to 61.1%. By May they had risen slightly to 61.8% but we would still need to have diagnosed more than 33,500 people to get back to pre-pandemic levels.
Nobody could have predicted the scale of the Covid-19 pandemic, but lessons must be learnt. People with dementia need to be prioritised for recovery. The average number of new monthly GP assessments for dementia between March 2020 and February 2021 was 56% lower than last year and we cannot allow that to fall any lower. This is why we were pleased that the government invested £17 million to support increasing diagnosis rates in March 2021. But we now need confirmation that this injection of funding is targeted to where people need it most.
Preventing misdiagnosis
Even before the pandemic, too many people were left waiting for their diagnosis – sometimes misdiagnosed or passed from pillar to post. There is no doubt that we must get diagnosis rates back up to the national target, but, given that there was significant regional variation, we must ensure that any regional anomalies are ironed out too. It also isn't just the rate of diagnosis that needs to be considered – we also need to address the quality of dementia diagnoses to make sure everyone can access the care they need.
Identifying symptoms can be challenging, both for professionals and non-professionals. Some symptoms match a lot of other conditions and other factors such as age can lead to a misdiagnosis. Although it's known that roughly 5% of the 850,000 people with dementia are under the age of 65, the actual figure could be much higher, at 6-9%, because of these difficulties in diagnosis.
A solution would be giving more training to GPs so they can spot the rare symptoms that younger people with dementia can present with. For example, it would potentially prevent someone being misdiagnosed with epilepsy and being given the wrong medication, or with a mental health disorder and being sent to counselling. This is not only damaging for patients, but also wasteful of NHS resources.
A disjointed journey
Better integration between primary and secondary care would significantly streamline access to support and a timely diagnosis. People with dementia have told us that there is a worrying lack of information around the dementia referrals process which can be made worse if there is poor communication in an already disjointed journey from primary care such as a GP to secondary services like a memory clinic.
Notes may not be passed on so people may have to repeat their story multiple times and are left unsure of where to turn for help and advice. Clear communication, additional written materials and the chance for the person being diagnosed to ask any questions is absolutely crucial.
While many people with dementia are assessed by memory clinics, some can be assessed in different health and care settings such as hospitals and care homes. These settings can present significant challenges in identifying dementia and distinguishing the condition from delirium, for example. Hospitals are also busy environments and often a lack of time, experience with dementia, and insufficient patient information can make assessment challenging. When people do get a hospital assessment and are referred elsewhere for memory assessment, this does not always occur.
Similarly, in care homes, care staff might have been given low levels of formal training around dementia and again they can struggle to access patient information. Though all are doing their best in challenging situations, we need greater training for staff in both settings and to ensure there are information-sharing processes in place so medical information can be accessed appropriately.
Unfortunately, even where you live can impact on getting a diagnosis. Research suggests that diagnosis rates can correlate with levels of deprivation. For example, in areas with higher levels of deprivation, there is likely to be a higher level of morbidity for chronic conditions, which would suggest increased visits to primary care and more opportunities for dementia to be detected. On the other hand, if more people are requiring primary care, urgent health care will be prioritised, and GPs are likely to have shorter appointments to fit more patients in.
Other considerations, including socioeconomic factors, also play a role. Those of a higher socioeconomic status are more likely to recognise symptoms and go to a GP. Given this link, extra, tailored resources should be supplied to areas with higher deprivation to ensure no one slips through the cracks.
Data collection is another key missing piece of the puzzle. If information such as diagnosis waiting list times were available, along with regular reports of memory service data, we might be able to reduce any regional variations.
But it is not just about diagnosing dementia. We also need to diagnose subtypes. For the person with dementia, an accurate subtype diagnosis can affect future medication, care plans, and opportunities to both engage in and benefit from research. However, in some areas of the country diagnoses of "unspecified dementia" are as high as 50%, compared with a national average for over-65s of 6% and for under-65s of 9%. This tells us that some areas can do much better on diagnostic accuracy, as well as on giving individuals tailored information to help plan any future care and develop strategies for living well.
The value of an accurate, timely, diagnosis cannot be overstated. It opens doors to emotional, practical and legal support that enables people to live well with the condition. It helps professional carers give tailored support and treat everyone as an individual by making sure their specific needs are met. And for services and researchers, the resulting data allow us to understand the true extent of dementia and inform the provision of better and more suitable services that people greatly and urgently deserve.
Help Alzheimer's Society be there for people affected by dementia during one of the hardest times of the year by donating at alzheimers.org.uk/christmas. For information, advice and support call our Dementia Connect support line (0333 150 3456) or visit our website at www.alzheimers.org.uk.
References
Alzheimer's Society (2021) 'Pandemic's toll: over 34,000 people with dementia dead; care home deaths third higher than thought.' London: Alzheimer's Society, webpage at www.alzheimers.org.uk.
Alzheimer's Society/Peter Sowerby Foundation (2020) From diagnosis to end of life: The lived experiences of dementia care and support. London: Alzheimer's Society.
James White is head of public affairs and campaigns at Alzheimer's Society