Namaste Care reflects a patient-centred philosophy that has begun to prove its worth on hospital wards for people with advanced dementia. Julie Young found that it helped to reduce distress and agitation, reassured families, and strengthened bonds between staff and patients
As a concept "Namaste" means to "honour the spirit within" and it has been adopted into clinical work with the Namaste Care Programme (Simard 2013). This is a structured programme that incorporates compassionate nursing care and individualised activities for people with advanced dementia in a group setting.
The aim is to meet their needs for comfort and pleasure through sensory stimulation, especially touch. While it was originally developed for care home settings, it has been adapted to people's own homes and to hospices, and it has been trialled successfully in acute hospitals on a one-to-one basis (Kendall 2019).
Namaste reflects the philosophy of good person-centred dementia care considering the needs of the individual, their likes and dislikes, and personalises the care to their needs (NICE 2018, Kitwood 1997). We decided to trial the Namaste Care Programme on Woodhorn ward, an inpatient dementia care service at St George's Park hospital in Northumberland.
Our intention was to reduce patient distress and agitation on this inpatient organic assessment ward, which is a 10-bedded assessment unit for older people with dementia. We saw it as underpinning the philosophy of the Newcastle model currently used for assessment on the ward (James 2007).
Core elements
Kendall (2019) sums up the core principles of Namaste Care as follows:
• a person-centred approach
• explaining the approach to the family engaging their support
• completing life story
• addressing issues around comfort and pain management
• creating calm, peaceful environment
• use of a spritz or an aroma diffuser to scent the room
• music playing which is meaningful to the person
• use of loving touch
• celebrating the seasons bringing outdoors inside
• reminiscence activities
• offering drinks and snacks
• encouraging the person's range of movement
• having fun
• feedback to the family and their involvement in sessions.
As originally conceived, the Namaste Care Programme is delivered in a group setting seven days a week for two hours in the morning and two hours in the afternoon (Simard 2013). In our case we felt it appropriate to trial the Namaste approach on a more individual basis due to the very different needs and abilities of the patients, particularly those with less advanced dementia.
In summary, we wanted to improve and promote wellbeing and to evaluate Namaste as an intervention to de-escalate people's distress and potentially behaviours that challenge. It was to be offered to people both in the earlier and later stages of dementia, and a statement on the aims of the intervention was developed by the ward team (see box below).
Namaste Care: our aims
To meet the person's need for:
• respect and dignity
• comfort
• enjoyment and pleasure
• company
• feeling safe
• families to have meaningful visits
From mental health perspective:
• improve mood through engagement
• enable assessment of mental health through developing a therapeutic relationship
• de-escalate potential anxieties and aggression
For staff:
• chance to improve communication skills and sensory approach
• programme to help with advanced dementia and palliative care.
Introduction on ward
Training
Four staff attended a course at St Christopher's hospice (London) to be able to implement the Namaste approach on the ward. They also liaised locally with St Cuthbert's Hospice which has an established team offering the approach.
Environment
Consideration was given to the environment in which the intervention would be carried out. A room was identified that could be used for Namaste Care and was made a comforting and pleasant space to be in. Sensory lights (these were also portable so could be taken to the person if needed) were installed and it was decorated with calming posters and portable screens.
Personalised music could be played in the room and we put in a couple of armchairs, a footstool and a rocking chair. Patients were encouraged to go out into the garden.
Each patient had an individualised Namaste bag created for them containing hand creams, scents (such as perfume or after shave), a comb or brush, fleece blanket, sensory profile, CDs of music they might like, preferred snacks and drinks, towel and flannel and any specific reminiscence items such as poetry and photographs. This meant it could be taken to the person if it was not thought beneficial for them to come to the Namaste room.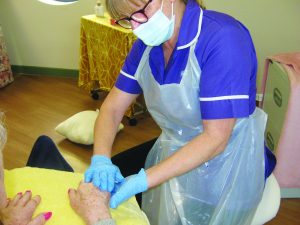 Safe practice
The person with dementia was involved, if possible, in information gathering to develop a sensory profile. But if the person was unable to communicate the necessary information and was assessed as lacking capacity specific to the decision of accepting Namaste Care, their family or carers would be approached.
If the person did not want to participate this would be acknowledged, as would any increase in distress from the intervention. The sensory profile considered a person's preferences for music, food, drinks, scents, colour and therapeutic touch.
Discussions were held with medical staff on the ward about any possible risks for interventions such as hand massages (eg, considering any skin conditions, and potential breathing difficulties that could be triggered by room scents). Aromatherapy oils were not used because of the risk of contra-indications, but hand creams were employed as were neutral oils such as grape oil or a baby oil.
During the Covid-19 pandemic, fresh challenges were presented by the need for risk management, but appropriate PPE was worn, and Namaste Care evolved to be a key feature in the palliative approach to supporting patients who got Covid.
Some Namaste sessions were planned at times when it was known that the person needed more support and other times the sessions were more opportunistic and responsive to a need or a situation. It formed part of the care plan as an intervention when there were signs of escalating distress.
Intervention evaluation
Sessions were documented in patients' notes, and intervention preferences were also noted, to help to ascertain which were most effective in improving a particular patient's wellbeing. These helped support care plan evaluations.
Anecdotal reports showed that patient wellbeing had improved. Recording in the patient's notes also showed the positive effect of walks and exploring the garden. Dementia Care Mapping (DCM) was also carried out (Brooker 2004) and the scores showed a boost to wellbeing.
From the evaluation of this trial, the following benefits were identified:
• provides positive time for carers to spend with the person with dementia
• when given prior to mealtimes, patients ate better, their diet improved, and they gained weight
• patient mood was lifted as they would actively seek the Namaste lead out to have their hand massage even though they had previously been very withdrawn
• meets sensory and emotional needs, via a needs-led care plan
• improves quality of life wellbeing as illustrated by DCM
• families have purposeful and structured visits
• gives structure and purpose to "empty time" (ie, time when no personal care tasks are undertaken).
• allows further assessment of mood through one-to-one sessions
• during Covid, the Namaste approach has been used at end of life, providing meaningful touch and support
• more job satisfaction for staff delivering this care.
Namaste on the ward: examples
Planned sessions
Michael would have a Namaste session prior to meals to reduce his anxiety, helping him to eat when he was more anxious. Otherwise, he would be unable to eat
Joan would have her hair brushed in bed through the day when she was trying to rest, as this would reduce agitation arising from her need to find her mother.
Opportunistic session
When Ian packed his bags to leave, he would have an intervention which involved spending time in a quiet lounge in the evening with staff or walking around a quiet area of the ward, going through some locked doors into a safe environment. Staff would walk alongside him with music that he liked to engage and distract him. The rhythms helped him to relax and there were fewer aggressive incidents.
Challenges
In addition to benefits, several challenges were noted in implementing Namaste Care interventions:
• consistency of implementation
• training of staff who are happy to carry out Namaste interventions
• educating families to use Namaste
• training staff at a care home to which a patient may be discharged to implement it as part of a care plan.
Summary
Person-centred interventions using a Namaste approach have helped patients on Woodhorn ward to reduce their distress and agitation. It has offered staff a sense of achievement and strengthened their connection with the person with dementia. During the pandemic it has fitted alongside palliative nursing care and reassured families who could not visit due to restrictions but were aware that Namaste was being given.
We hope to embed this approach further. A mission statement will be developed and a flyer to provide more information to patients and their families. We are also excited at taking the approach further using Teddy, our assisted animal therapy dog.
A more robust evaluation process is needed which would include DCM as a measure of wellbeing but would also review behaviours and medication regimens. If Namaste de-escalated distressed behaviours without the need for medication, that would be another significant benefit.
Frank: a Namaste case study
Frank is a 74-year-old man with Alzheimer-type dementia. He experiences distressing hallucinations, has impaired sight and can misinterpret people approaching him, in that he feels threatened and becomes aggressive.
He is fully mobile and will walk about the ward, but he will also spend periods of time on the floor sitting cross-legged, which is something he would also do at home. His misperception of staff who are trying to assist him can lead to poor diet and fluid intake, as well as aggression, especially when staff try to give him personal care
Interventions
The therapist considered the key aspects of the Namaste approach. She knew Frank's life story and had an understanding of his personality. She knew how to communicate and connect with him, approaching him from the left side as he has limited vision on his right side, and speaking softly as he cannot tolerate loud noise.
Environment
In a calm environment she would mirror his position so that, when he was sitting on the floor, she would sit with him. Frank preferred classical music and she would hold his hand swaying to the music. She would massage his hand, using neutral hand cream as he had previously pulled away when scented cream was used.
He would begin to relax and hum to the music and smile. While the therapist kept this connection, another member of staff would provide a favourite drink and food for Frank, which the therapist was able to offer and which he enjoyed. The intervention lasted for half an hour.
Outcome
Frank's needs to feel safe and valued were met (Kitwood 1997); he was calm, enjoyed company, and improved his diet and fluid intake. We have since found that, in personal care, he enjoys moisturiser cream being massaged on his face and this is incorporated into his personal care routine.
References
Brooker D (2004) Dementia Care Mapping: A Review of the Research Literature. The Gerontologist 45 (issue supplement 1) 11–18.
James IA, Stephenson M (2007) Behaviours that challenge us: The Newcastle Support Model. Journal of Dementia Care 21(3) 32-34.
Kendall N (2019) Namaste Care for People Living with Advanced Dementia. London: Jessica Kingsley Publishers.
Kitwood T (1997) Dementia Reconsidered: The Person Comes First. Milton Keynes: Open University Press.
NICE (2018) Dementia: Assessment, Management and Support for People Living with Dementia and their Carers (NG7) London: NICE.
Simard J (2013) The End-of-Life Namaste Care Program for People with Dementia (2nd edn). Townson, MD: Health Professions Press.